Full Automatic Fastener Counting Packing Machine For Screw Bolt Furniture Fittings
Model: LDH-320H-4
Introduction: A set of vibrating pan, a set of supplementary pan, Signle bucket elevator, packing machine and finished product conveyor.
Application:
This system is for packing one or several kinds of material into a small pouch. It is weighing by counting disks.It is suitable for a wide range of hardware and fastener, such as screw, nut, nail, rivet, bolt, etc.
Our packing machine widely use in:
- Furniture parts (Fittings, Fastener, Hinge, Lock, etc.)
- Electronic machinery and appliance spare parts (Mobile Phone Screw, Cable Clip, etc.)
- Fastener (Screw, Bolt, Nut, Washer, Nail, Small Hardware, O-Rings, etc.)
- Plastic, pipe fittings (Pipe, Joint etc.)
- Clothes parts (Button, Slider etc.)
- Toys (Toy Building Brick, Dice etc.)
- Stationery (Mark, Pen, Clip etc.)
- Other regular shape parts
- And other solid material counting/ weighing and packing.
It can pack the same items or mixed items in the packs by quantity.
Samples: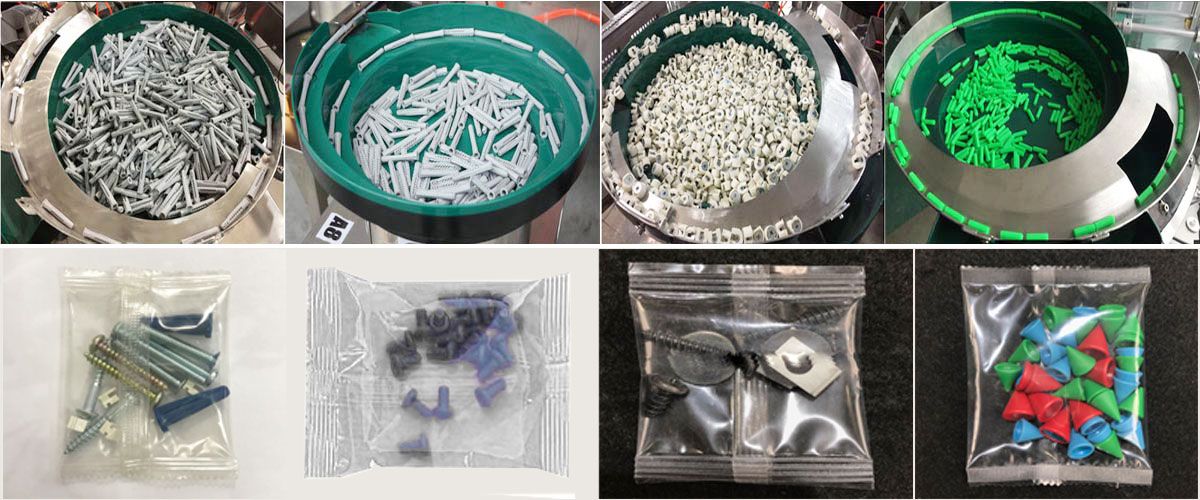 Features:
1. With Counting Pan and easy to change.
2. With positioner measurement method.
3. With 7 inch touch screen.
4. With PLC control system.
5. It can be mixed packing with different materials in different pans.
6. With automatic counting, filling and sealing.
Parameters:
1. Machine frame: stainless steel 201
2. Film materials: Co-extrusion PE film; heat sealable composite film such as OPP, CPP, PE
3. Sealing: three side seal
4. Film width: 320mm (widest)
5. Bag width: 30-150 mm (replacement of the bag former to change the width)
6. Bag length: ≤280mm (The length can be adjusted in touch screen)
7. The width of vertical seal: 8-10mm adjustable
8. Voltage: Single phase 220V, 50HZ
9. Packing speed: 10~80 bag/min (It depends on actual materials)
10. Sealing embossing: straight/ textured/plain
11. Bag making device: Elephant trunk molding
12. Cutting knife: serrated knife or dense serrated knift
13. Exhaust method: pinhole echause or sponge exhause14. Vibration feeder included
15. The discharge height of output belt conveyor: 500~700mm adjustable
Video:
Connecting With Us
After receiving your inquiry, We will send you the quotation as soon as possible.