Low Cost Semi Auto Fastener Packing Machine With Chain-Type Batchers
Model: LD-320BH
Introduction: Suitable for industrial parts, Fasteners, Plastic/Rubber Parts, Hardware Parts, Furniture Accessories, and small hardware or plastic parts, regular shape or irregular shape of parts etc.
Application:
1. Fasteners: screw, bolt, nut, washer, rivets, nails etc.

2. Plastic/Rubber Parts: wall anchor, rubber o-rings, toys, lego building bricks, small plastic parts.
3. Hardware Parts: hardware components, hardware connectors, metal parts etc.
4. Furniture Accessories: furniture connectors, furniture fasteners, furniture fittings, furniture accessories, door handle, hinge etc.
5. Others: small hardware or plastic parts, regular shape or irregular shape of parts.
Samples: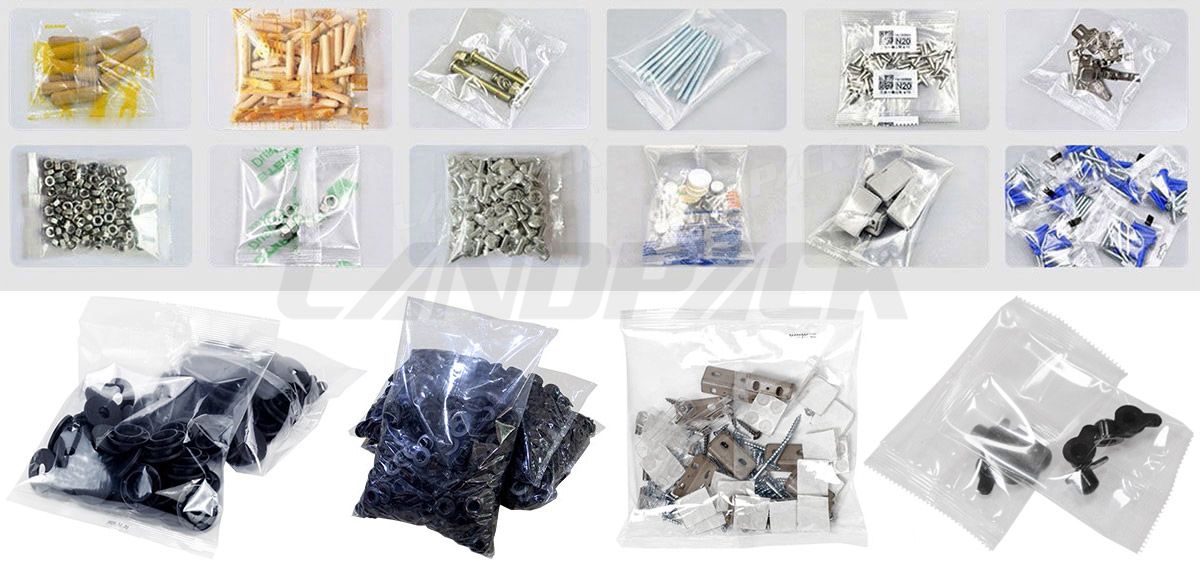 Features:
1. High precision structure for simple and easy operating and repairing.


2. Single-chip CPU,step-motor,easy and accurate to set the bag length.


3. Own simple circuitry and outstanding function.


4. Selecte device: triangle bag, 3 or 4 sides seal bag, bag-linking device.
Parameters:
Type
LD-320B
LD-380B
Film Width
120-320mm
180-380mm
Bag Length
50-200mm
60-280mm
Bag Width
50-150mm
60-180mm
Range of Measurement
50-500ml
50-570ml
Film Roll Diameter
Max.320mm
Max.320mm
Packaging Rate
35-70bag/min
35-70bag/min
Power
220V 50/60Hz 2.2KW
220V 50/60Hz 2.5KW
Machine Size(L*W*H)
970*680*1950mm
1100*800*2150mm
Machine Quality
300KG
450KG

Optional device
1.Date Printing,2.Hole Punching Device,3.Linking bag device,4.Air-filling Device,5.Tear Notch Device
Video:
Connecting With Us
After receiving your inquiry, We will send you the quotation as soon as possible.