Low Cost Automatic Screw Packing Machine With Singe Vibrating Bolw
Model: LD-LS300
Advantage: Tailor-made vibrating discs and precise counting control devices for customer packaging products ensure that each bag is accurate.
Application:
Our packing machine widely use in:
-Fastener(screw, nut, washer, nail, small hardwares, etc.)
- Furniture spare parts
- Plastic pipe fittings (pipe, joint etc.)
- Auto Parts
- Machinery and appliance spare parts
- Clothes parts (button,slider etc.)
- Toy industry
- And other solid material counting/ weighing and packing.
It can pack the same items or mixed items in the packs by quantity.
Samples: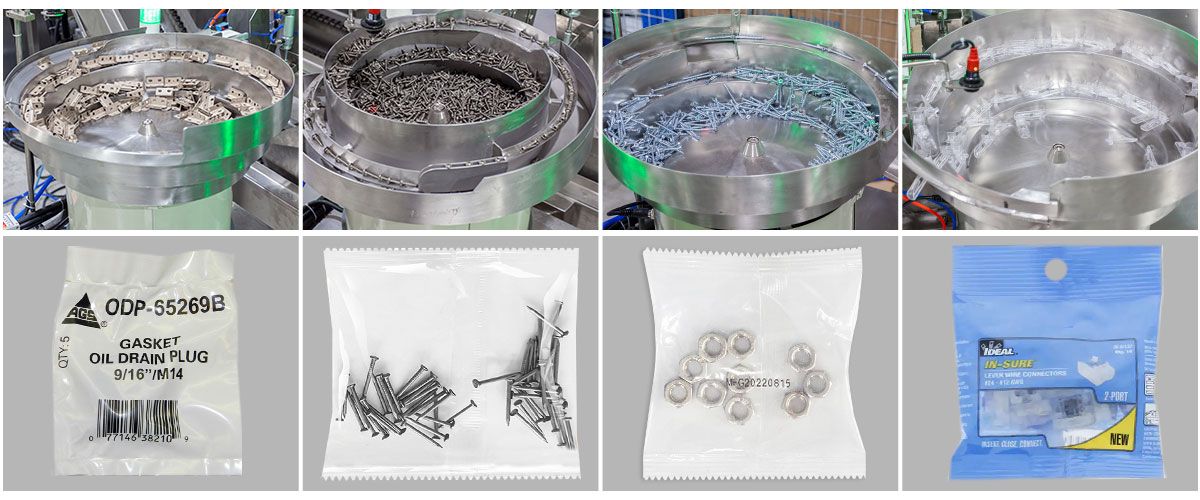 Features:
1. Tailor-made vibrating discs and precise counting control devices for customers' packaging products ensure that the number of products in each bag is accurate.
2. Adopt PLC control system, suitable for single material packaging. Adding a vibrating plate is suitable for a variety of product packaging.
3. The bag making system adopts the stepper motor subdivision technology, which can automatically track and locate the color code of the packaging bag (optional), so as to easily complete the action of bag making, with fast adjustment speed, stable operation and low noise.
Parameters:
Model

Packing size

L: 30-180mm, W: 50-140mm

L: 50-300mm, W: 90-250mm

Max film width

320mm

520mm

Packing material

Air supply

0.4-0.6 MPa

Packing speed

10-50 bag/min (Depend on the counting quantity and material size)

Power

AC220V or AC 380V 2KW-6KW

Machine size

Customized size
Video:
Connecting With Us
After receiving your inquiry, We will send you the quotation as soon as possible.