Refer to the fasteners packages, there are some views to appear that many people are counting and packing the fasteners into bag in the workshop.And the daily production is very hard to improve, although the workers work day and night. Is there an automatic and smart pack to replace the workers ?

The answers is Yes. Foshan landpack machinery could provide you multi functions fasteners packing machine. It will be great helpful to improve and daily production and save 4-5 labor cost.

Recently, we have provide the fasteners counting and packing machine for our customers in Philippines. He want to count 9 kinds of fastens and screws into bag. And each bag is 10 pcs. The pack speed is 500 bags per month. There are 4-5 labors in their factory.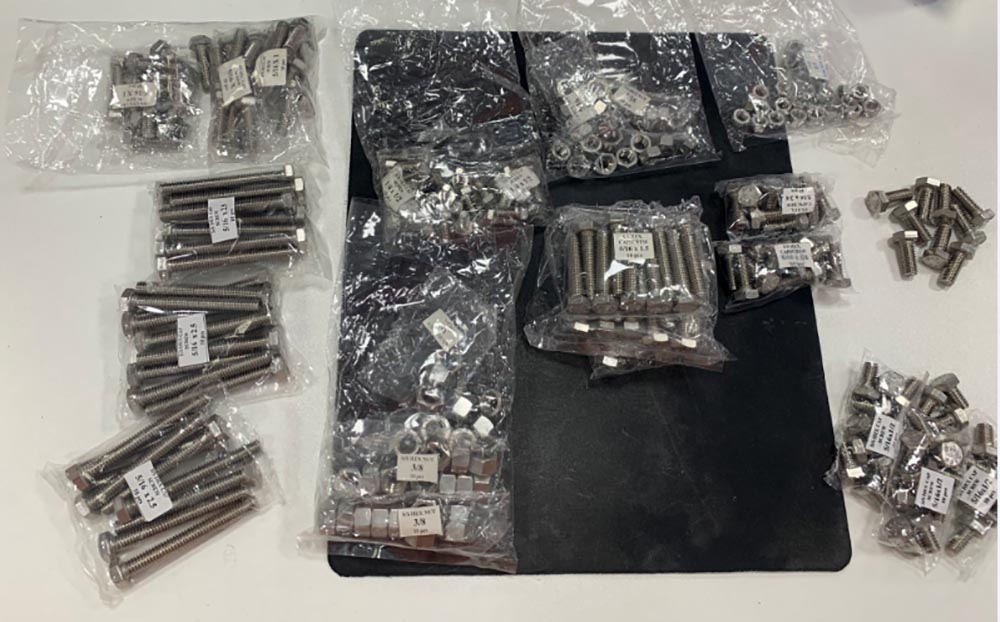 Our engineers have sorted out the fasteners and screws which he sent to us. There are 3 counting bowls to count 9 kinds of fasteners and screws. Base on the length and diameter, some counting bowls could count 2-3 kinds different size of fasteners or screws. More importantly, the counting machine is customized base on the screws size to make sure the machine could count at high accuracy. So we always request customers to send the plastic item and screws to us .
Considering the customers' demand in the future, when their fasteners business develop well, our engineers have designed the support platform beside the transport chain. So the workers could put the fasteners and screws on the machine directly.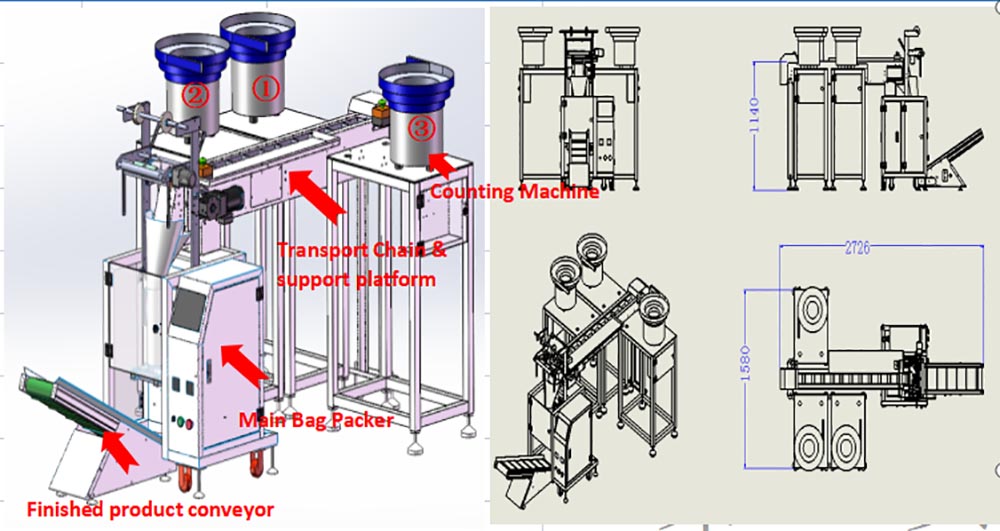 You could see there are 3 counting bowls beside the transport chain, One counting bowls is for one kind of fasteners . The transport chain will collect and bring the fasteners and screws from the counting bowls.The main packer will use the roll packing film to form the bag automatically.

Our customers also requests us to let the machine stick the labels on each bag. The screws information and company logo are written on the labels. It is easy for the customers and worker to pick up them and recommend the company.
However, our engineers suggest the customers could use the words printer. It could match with the machine directly. The customers just need to edit the information on the touch screen. The company logo and screws info will be printed on each bag directly by the words printer. So it is very convenient for the customers to operate. In another hand, the businessman do not need to purchase more roll labels for each different screws packing. And they do not need to change any roll labels, when the machine is working. In this way, the words printer could help them save the cost and production time.
Our customers are satisfied with this fasteners packing machine and the packing result. If you also want to use the machine to count and pack the fasteners in your factory, you could contact us on website. Our engineers and sale manager will be here to support you.